Jamie Siminoff '95 walked away with nothing after pitching his video doorbell on the TV show "Shark Tank". Undeterred, he transformed his invention into Ring, the industry leader in the home security market, which was recently bought by Amazon for more than $1 billion.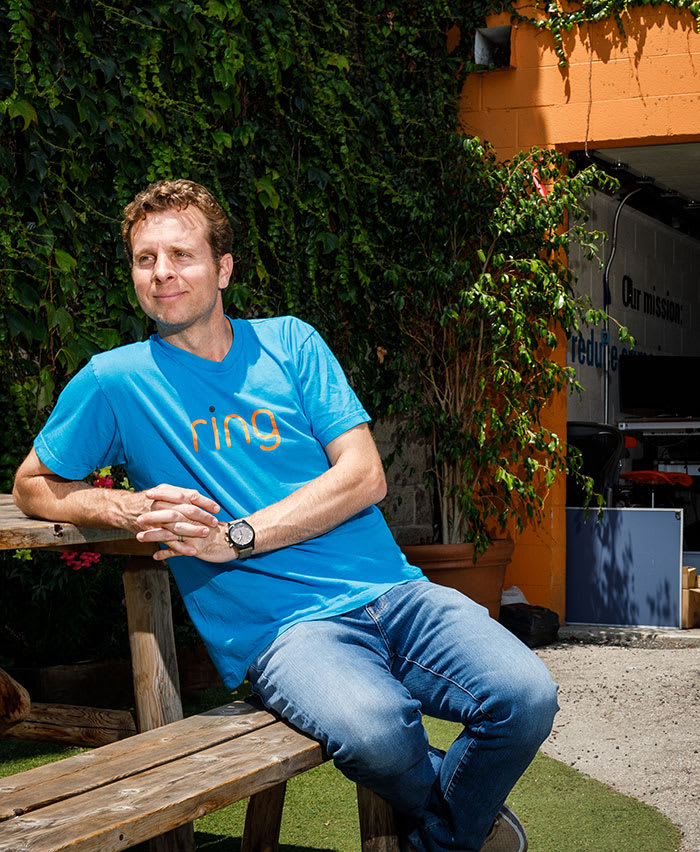 Fueled by passion and perseverance, MBS graduate Jamie Siminoff '95 created the world's first Wi-Fi video doorbell while working out of his garage seven years ago. Although his invention was rejected on ABC's start-up investment TV show, "Shark Tank", the setback didn't deter him. He has since transformed his invention into Ring, a cutting-edge neighborhood security company that is revolutionizing home security and reducing neighborhood crime.
Under Siminoff's direction, Ring has seen incredible success and growth. Last winter, Ring was acquired by Amazon for more than $1 billion, the second largest Amazon acquisition after Whole Foods.
From an early age, Siminoff had a desire to tinker and build things. His father co-owned a plant that forged steel pipes for oil refineries, and he would ofyen use his father's tools to take apart television sets and build small inventions in his basement after school.
Before coming to Morristown-Beard School as a sophomore, Siminoff attended public school and admits, "I was not a very happy kid overall...I was not on a good path." At MBS, however, Siminoff began to flourish. "Morristown-Beard School allowed me, for the first time in my life, to find the things that I liked and to do those things. I discovered that I really liked architecture and building things, and I was able to do that," he said. "I feel like I found myself there." Siminoff's passion for tinkering was certainly ignited by Rich Timek's architecture class. "That was incredible for me, the stuff that we did in (Mr. Timek's) class. For the final architecture project, we had to build a model, and that was probably one of my favorite things I've done. I designed a house...a nice Jersey estate. I think I still have it somewhere."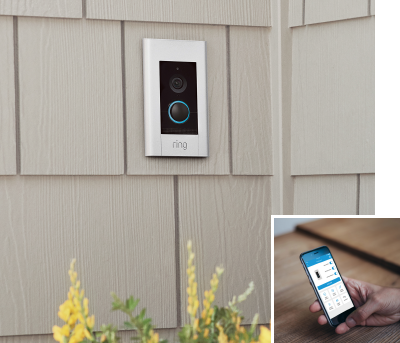 At MBS, Siminoff also enjoyed taking physics and math classes, and remembers former Math Department Chair Ines Schluter as being "a standout." History teacher Dr. Alan Cooper also had a big influence on him. "He was just phenomenal...great all-around," said Siminoff. "I think what stands out for me was the diversity of people at Morristown-Beard School; you got exposed to a lot of different viewpoints."
He said the MBS campus environment itself also promoted a sense of independence and helped him develop time-management skills.
"For me, it was such a great thing to be more on my own, just walking outside from classroom to classroom," he said. "It was definitely more freedom than what I had in public school. When I got to college, I think a lot of kids crashed and burned during their freshman year because they were not used to having more control of their own time. I kind of flew through college without any problems. Even during my first semester at Babson, I remember making the Dean's List."
Siminoff became interested in Babson College after Peter Hedley '97 made an off-the-cuff comment during their daily carpool to MBS. "I would drive him to school and I was starting to look at colleges. He was two years younger than me, so for Peter, college didn't matter at the time. I named all these colleges and we were just talking. I said something about Babson and he said, 'My Dad just met someone from Babson who was really successful.'"
Jamie
Speaks
On Failure
"People always ask me, 'What's your biggest failure?' Even talking about failure is the wrong way to look at it. Life is about long-term success; it's a marathon. If you're a marathoner and you have one misstep at mile seven, you don't call it a failure— you just make your next step better. If your shoe comes untied, you tie it, but the marathon is not over. It has nothing to do with the overall race."
"When you make a product that's not working well, you try to use that information to make it better next time. You just keep iterating."
"It's important to not get into the microcosm or the myopic side of this failure. Keep sight of what you want to achieve in five, 10 or 20 years. That lets you kind of blow through all these other things along the way."
On Success
"You should be trying to do what motivates you every day. It's about trying to find that thing that's going to satisfy you."
"Money and starting a business are not fulfilling on their own. I think it's really doing the thing that fulfills you that is going to allow you to be successful, because success is you being happy. We've all seen people who have achieved things that you would think would make them happy, but they don't seem to be."
On Self-Discovery
"When I think about what I have learned about myself through the years, it's really that I liked building things to make people's lives better. If I look at the core of me—which I think would be labeled as an inventor—I think what drives me more than anything is the ability to see something that someone doesn't have… like a missing part, and to give them something that fills that need and makes them happier. Once I realized that, that's when things certainly started to go better for me."
The light bulb went off in Siminoff's head and he immediately headed to the College Counseling Office. "I went to the college counselor and said, 'I'm applying to Babson, but I wanted to look into it more,'" he said. "I saw that they had a program in Entrepreneurship and thought that sounded great."
At Babson, Siminoff won the college's business planning contest and then made money drafting real briefs. After he graduated, he founded PhoneTag, the world's first voicemail-to-text company, and Unsubscribe.com, a service that helped email users clean commercial emails from their inboxes.
"I had some decent things and was mildly successful, and was jumping from project to project. I had kind of an entrepreneurial mid-life crisis," said Siminoff. "I kept doing these little things and nothing was getting any traction."
At that point, Siminoff decided to shift his focus from being an entrepreneur to being an inventor. "I told my wife, 'I'm going into the garage. I'm going to hire two people, two interns, and I'm just going to build (stuff),'" he said. "thankfully, as crooked as she looked at me, she did still say, 'Great. that sounds like a good career choice. You've accomplished so much in the garage.'"
Siminoff began working on a modular gardening system called SNAP Garden, but noticed that he couldn't hear the doorbell while he was in the garage. "My cell phone didn't have any signal," he said. "I would miss people; I would miss packages. On the side, I soldered together a bunch of crap and that was the first DoorBot. It was so obvious to me — why wouldn't your doorbell go to your phone, and why can't you see and talk to who's there from your phone? To this day, it doesn't seem like an invention to me because it was so damn obvious."
Soon after, Siminoff had lunch with an entrepreneur who encouraged him to try out for "Shark Tank" and gave him an email address for one of the producers. "I emailed the producer from the lunch table," Siminoff remembers. "I was driving home, and the guy actually called me and said, 'You have to be on the show!'"
When Mark Cuban and the other sharks turned down the deal that Siminoff wanted, he admits it was incredibly discouraging. "I was so sure that Mark Cuban was going to invest," said Siminoff. "And all of a sudden we're walking off the show with no money and it's like, 'we're screwed!'"
The Shark
That Got Away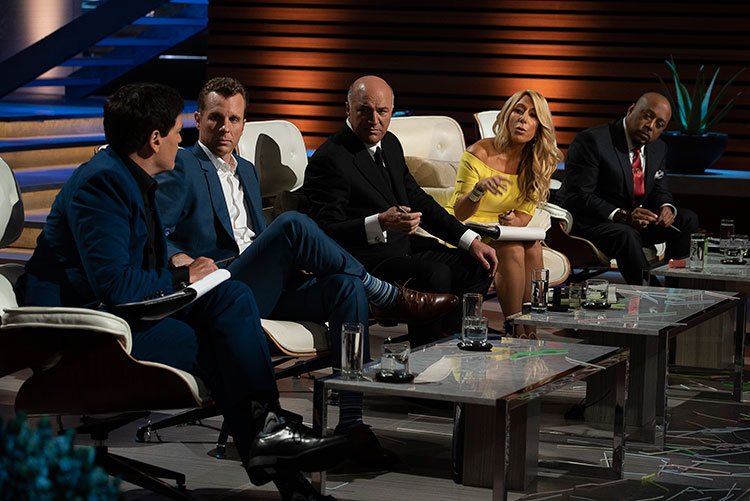 After being rejected on "Shark Tank" five years ago, Jamie Siminoff made a triumphant return to the TV show as a 'Guest Shark' for the season 10 premiere on October 7th.
"Well, well, well…look who's back," Shark Kevin O'Leary said as Siminoff walked onto the set. "I was the only one who believed in you. You deserve your seat here."
"The Sharks were extremely nice," and didn't apologize for rejecting him, Siminoff told USA Today. "You can't blame an investor for missing out on something they heard for 30 minutes on a TV show."
As a former contestant, Siminoff brought a unique perspective to the Shark chair, and it was very clear what he was looking for in a pitch. In his view, hard work, a clear business mission, and a good deal of luck are all staples of successful business stories.
The first pitch made to the Sharks was very much targeted to Siminoff's expertise—a package security idea called BoxLock. After hearing the pitch, however, Siminoff balked at investing, and the other Sharks jokingly called him a "dream killer" for not backing the product.
Despite the rejection, quitting was never an option for Siminoff. " The truth is, I had basically sunk all of my money into this project and the only way to survive was to keep going because stopping was certain death," he said. As it turns out, the publicity of being on 'Shark Tank' actually saved the company and the appearance on the show drove more than $1 million in sales in just one month. "When I was on 'Shark Tank', I was pitching a product that didn't exist because I was seeing what it could be, but I couldn't build it," he said. "What 'Shark Tank' gave us really was the capital injection to start on the path of getting that built, and then attract other investors."
In 2015, billionaire Richard Branson invested in Ring after a guest on his private island used the doorbell system to speak remotely with a delivery person back home. Branson was intrigued by Ring's ability to reduce crime in neighborhoods—a mission that Siminoff is passionate about.
"From a technology standpoint, it's probably had more impact on neighborhood security than anything else. We have thousands of pieces of video evidence that show that," said Siminoff. "For the inventor side of me, that's the most fulfilling thing that could have happened."
To combat crime in communities, Ring has partnered with National Night Out and police departments across the country. Recently, Ring and the Los Angeles Police Department kicked off a pilot program aimed at reducing crime by providing residents with complimentary connected doorbells. In a 6-month period, the LAPD said burglaries had decreased by 55 percent compared to the same time period the year before. Now that Ring is part of the Amazon family, Siminoff will be introducing several new home security products that work in conjunction with Alexa, Amazon's voice computing platform.
"Knowing that something that I actually worked on, and touched, and invented, is affecting people's lives in a positive way… that goes above and beyond all forms of compensation," said Siminoff. "I'd say that's as good as it gets."